There are some projects that come to the DP Juza shop that, once installed, make an impression. The custom residential woodworking DP Juza crafted, finished, and installed for Nordlys Lodging in their MetalLark Tower make an impression on how they enhance and compliment the cabin's unique design and beautiful location.
MetalLark Tower is a two-story 800 square foot cabin perched on the shores of a private lake surrounded by a wildflower meadow in rural Frederic, Wisconsin, located 90 miles northeast of Minneapolis, Minnesota.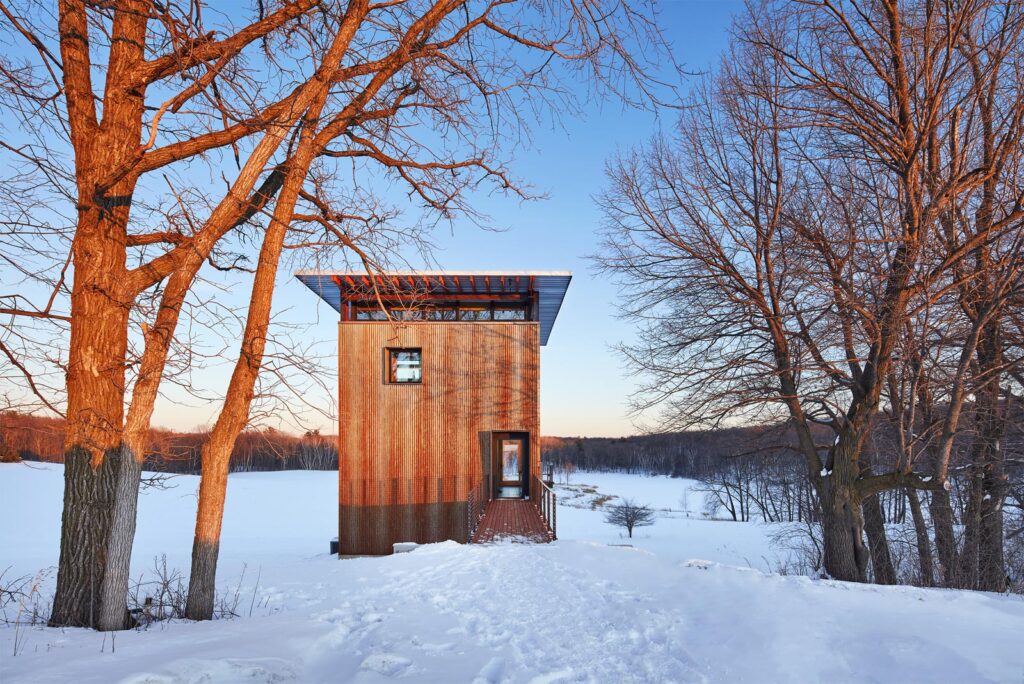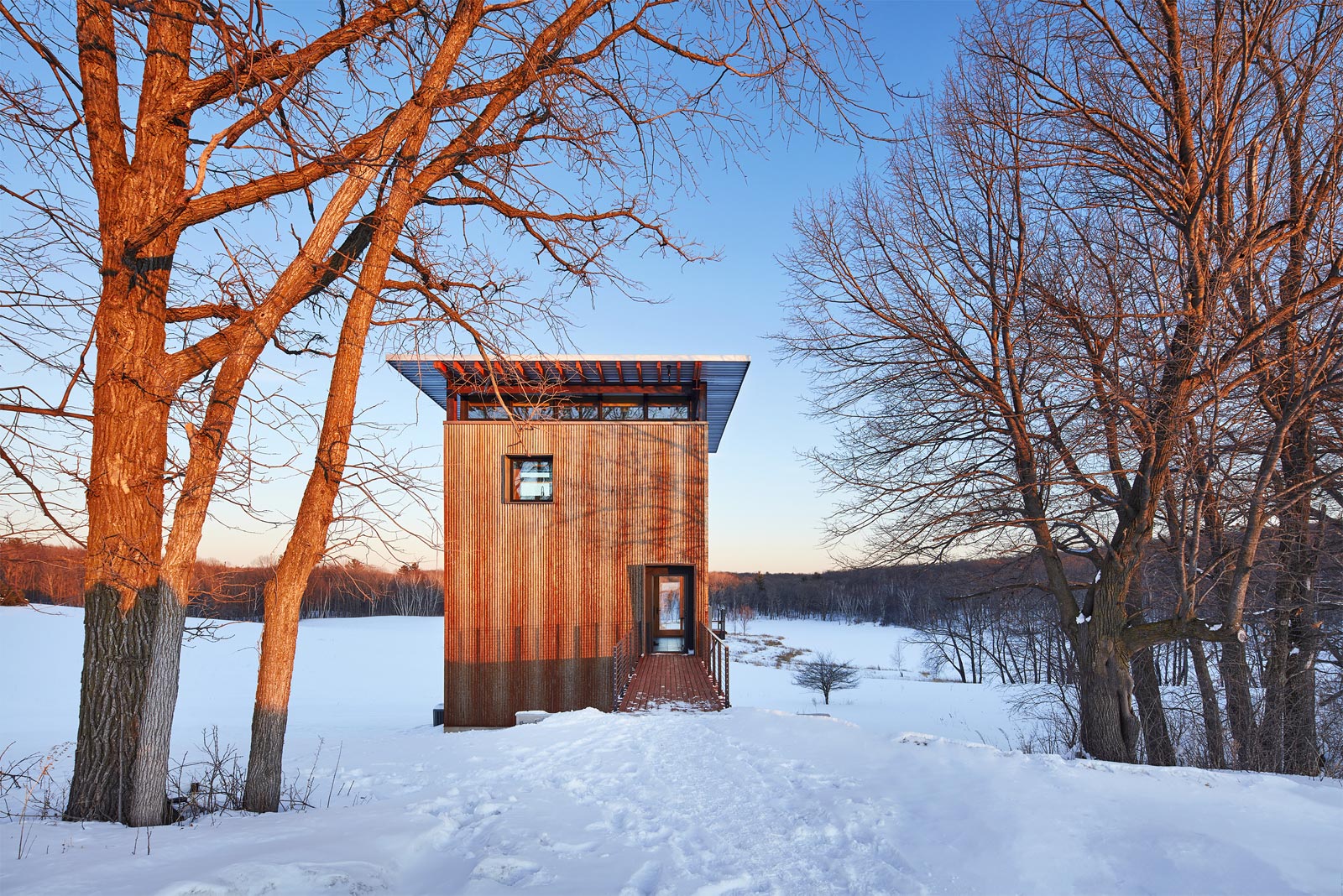 Experienced Woodworkers
Bruce McPheeters, owner of Nordlys Lodging, contacted DPJ to craft, finish and install Douglas Fir wall panels so the wood grain would flow naturally from the first floor to the second and back.
DPJ has completed similar work with eye catching results. A fact that SALA Architects, the firm behind the MetalLark cabin's unique design, was well aware of and why they recommended DPJ to McPheeters for this work.
Custom Residential Woodworking for the MetalLark Tower
Once McPheeters began discussing his interior needs and vision with Ben Juza, Vice President of Operations at DPJ, it was decided DPJ would build, finish and install:
Wall paneling
Kitchen cabinetry
Wardrobe
Architectural paneling, molding & trim
Floating bench
Concealed washer and dryer cabinet
Floating vanity
Desktop worktable
Doors for a European pull-down bunk bed
All of these fixtures are made from Douglas Fir one of the hardest and heaviest softwoods found in North America. When cut Douglas Fir has a straight to wavy grain texture, and its appearance is desired in cabinetry and furniture.

The natural beauty of the Douglas Fir shines through in all the fixtures DPJ crafted. It enhances and compliments the nature inspired architecture of the MetalLark Tower.
A Popular Getaway
Since its completion MetalLark Tower has received hundreds of bookings. Checkout this exclusive rental property in Levi Kelly's YouTube video who was lucky enough to stay in the cabin for two nights.
Floor to ceiling windows bring in nature's beautiful light making the natural finish of the Douglas Fir wood cabinetry, wall paneling and furniture glow. DP Juza provides custom residential woodworking in house finishing work for all of its projects.
Custom Residential Woodworking Installation Challenges
The installation work at MetalLark started with the wall panels on the second floor by truing up the wall and mounting the end panel on.
Then the wall panels went up until reaching the kitchen where the kitchen cabinets were installed. At this point, the DPJ installation crew encountered challenges working to install a full kitchen with limited space.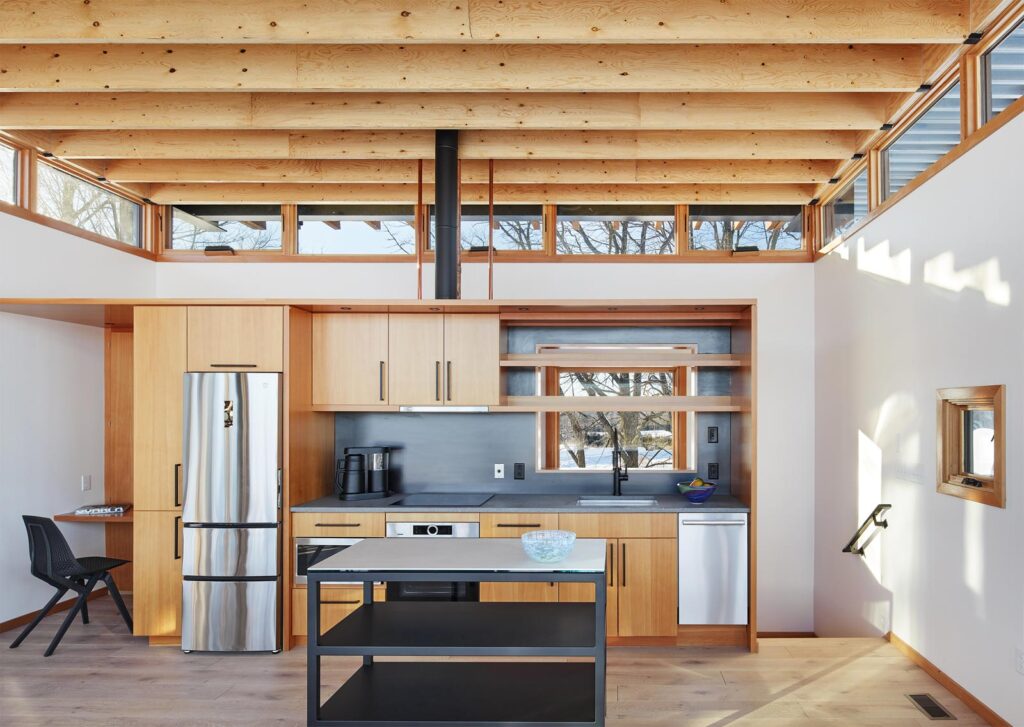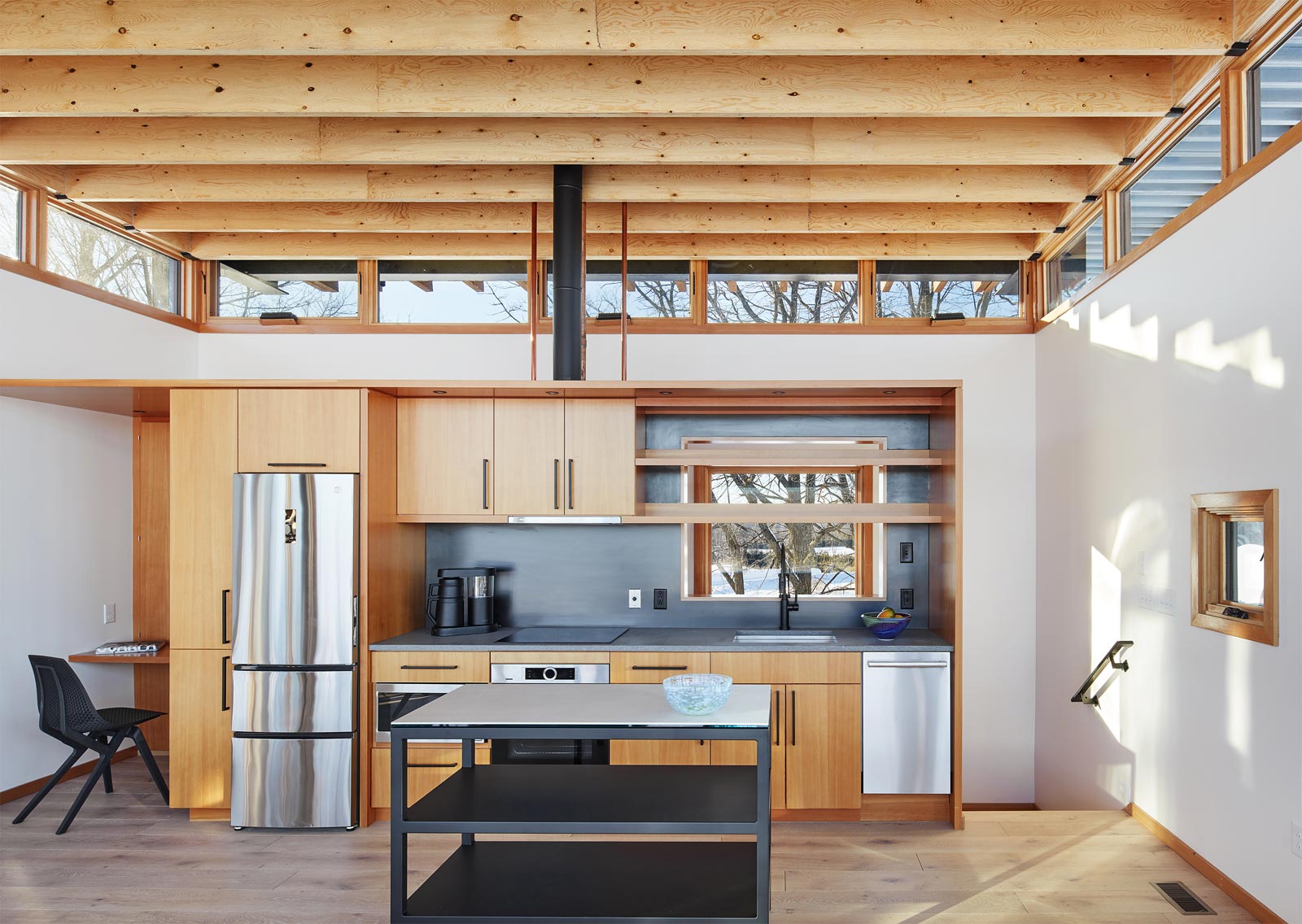 The custom kitchen cabinetry DPJ built for the MetalLark Tower included:
Pull out cabinet for pans with standard cabinet below
Refrigerator unit with cabinet above
Two upper cabinets and vent hood
Two floating shelves with a window to stairway behind them
Microwave cabinet with drawer above and below
Oven range cabinet
Cabinet with rollouts
Sink cabinet with false drawer
Dishwasher cabinet
All of these cabinets fit in the 13 ½ foot linear space for the kitchen.
Completing this in about 15 feet square feet made for a challenging install. Especially getting the floating shelves to line up correctly.
"We literally do magic with wood, stuff you shouldn't do – we do it – because architects," said Juza.
The crew managed to install all the cabinets in the limited space by moving the shipping foam and tools as necessary for each cabinet. Like all installations the crew adapted and overcame existing site conditions to provide the client with an exceptional product.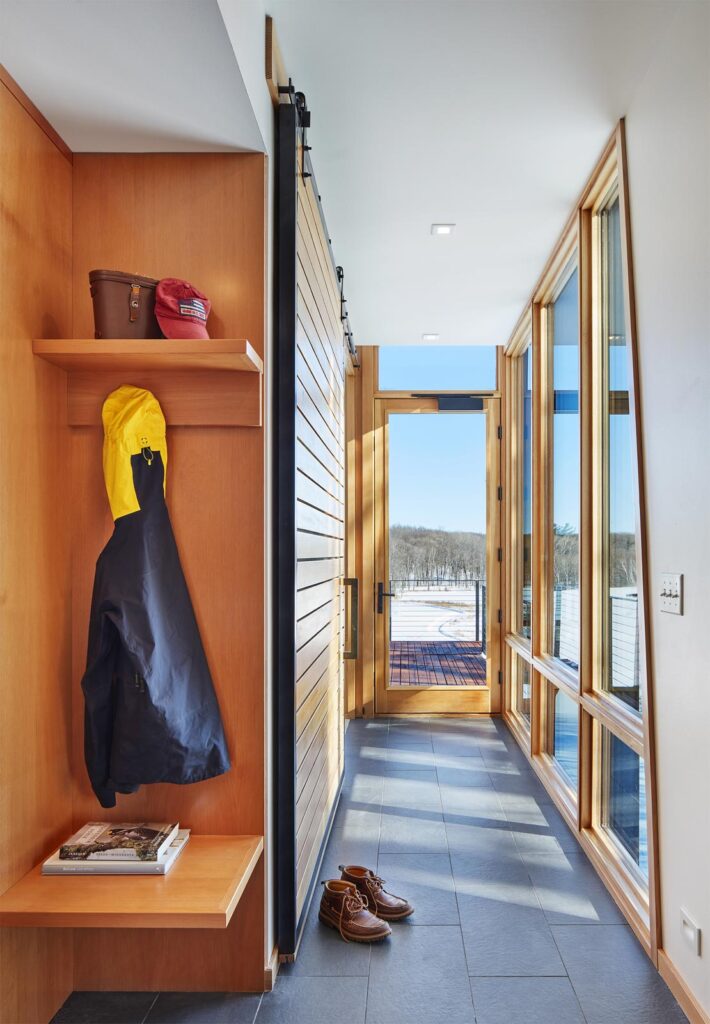 After installing the kitchen cabinets, DPJ mounted a soffit lid on top of the cabinets to create a contained look. This had to be installed before any wall paneling went on. The install crew leaned on their professional experience in placing it with a ¼ inch reveal space between it and the cabinets.
Creating Dimension and Flow
DPJ installed the 4′ x 8′ wood panels with a ¼ inch reveal between certain panes. This created dimension and flow on what would otherwise be a flat surface.
As part of SALA's design, DPJ custom woodworkers mounted the wall panels onto a plywood backer painted black with ¼ inch reveals so that the black plywood backer would peek through.
DPJ laid out the panels to maximize their appeal while factoring in ease and safety of installation. Installing the panels in the stairway involved two stories of scaffolding and was two-person job.
Through its experienced craftsmen, DPJ created a flowing wood grain as you enter the cabin. It opens up in the stairway, reaching 18 feet, wraps around on the second level where the wood grain flows through the kitchen cabinets.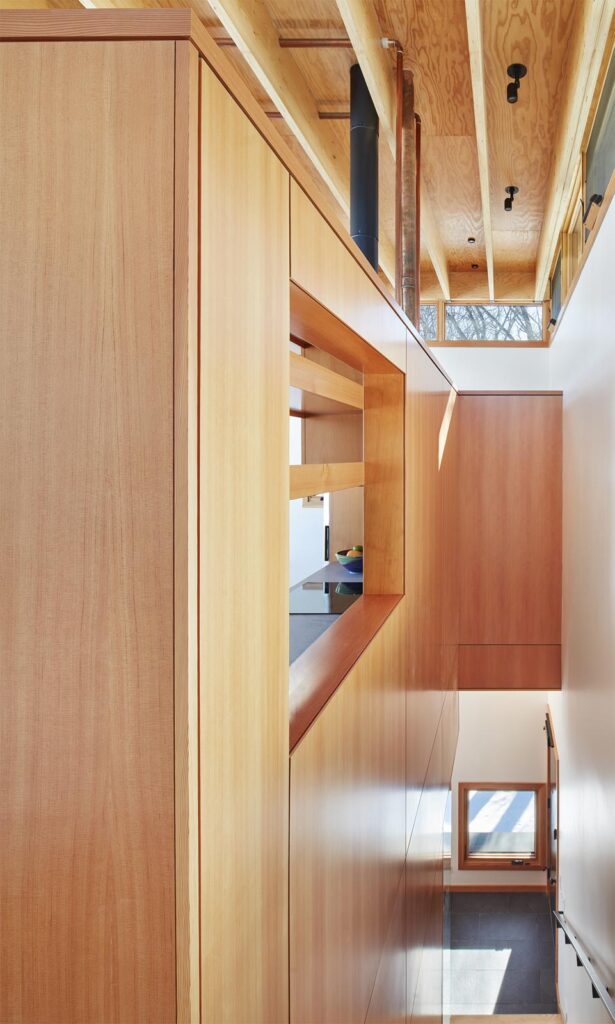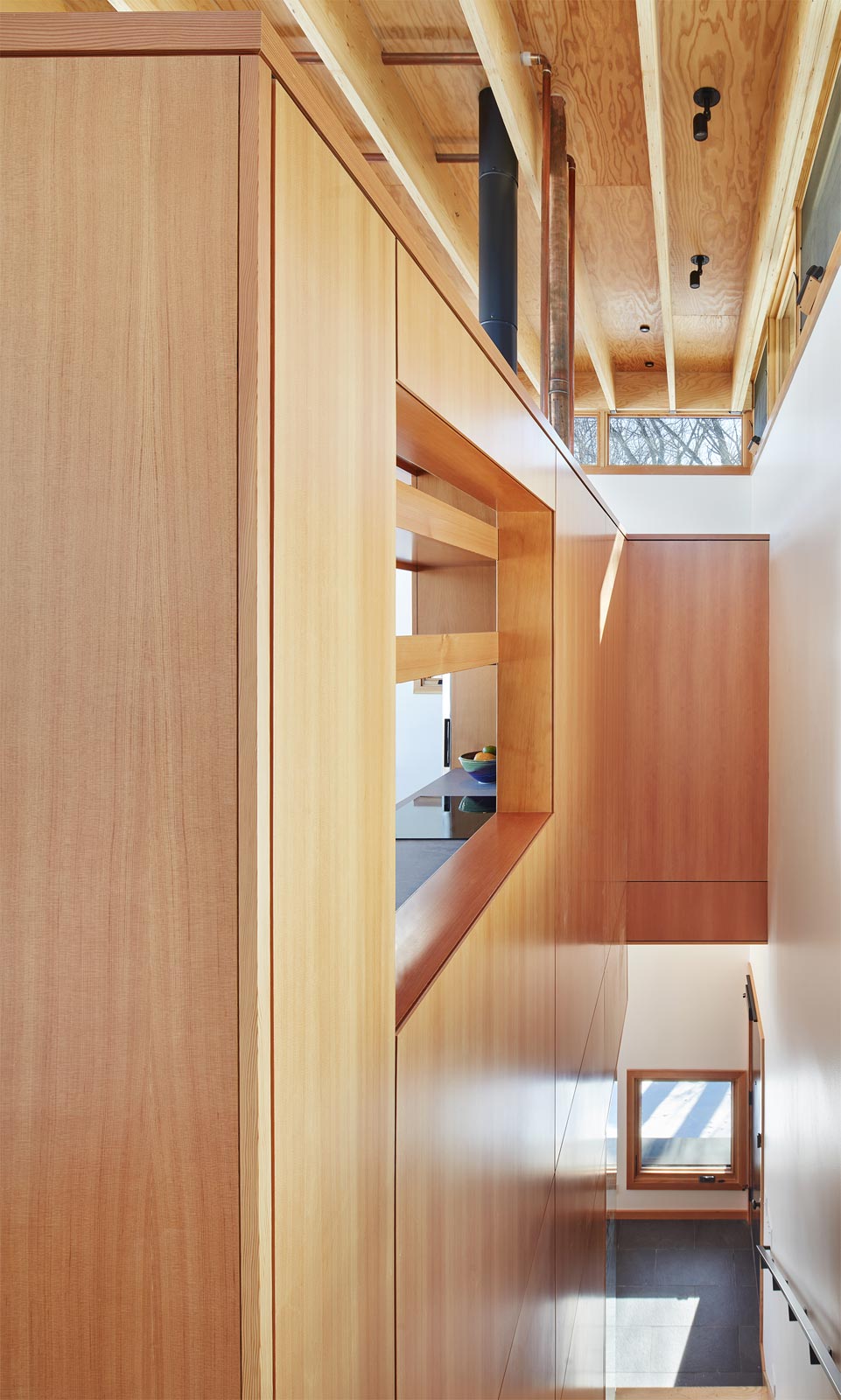 Overall, the installation work for MetalLark took five weeks to complete with two to four crew members on site at all times.
"The MetalLark Tower is definitely one of those houses that stands out," said Ben. "The craftsmen at DPJ are always critical of things because we are woodworkers, but this is a project where the architect knew what they were doing."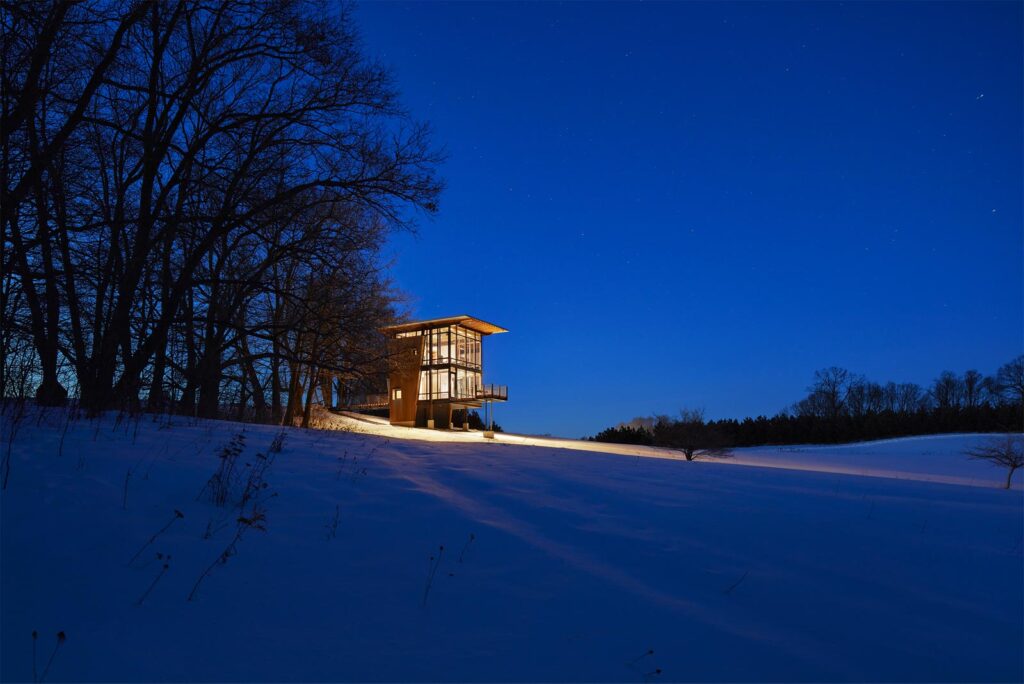 "This was an interesting house to work on," said Dustin Danford, DPJ craftsman. "At the end of day, the final product looks good after installing it."