Our Craftsmen at Their Best
One of the great advantages of having superior craftsmen and craftswomen working at D.P. Juza Woods & Fixtures is that the company is in no way limited to the type of projects we take on.
The versatility and experience of our employees allows us to take on jobs that other shops simply cannot do. A prime example is a trophy showcase we did for the local high school in Shell Lake, WI. Most "cabinet" shops simply do not have the woodworking experience and know-how to execute such an undertaking.
Knowing our capabilities, a school official approached us about adding an area of recognition for their student's academic achievements and awards. His belief was that if the athletic teams could display outstanding accomplishments, hardworking students should rightfully have the same. After all, it is an academic institution. Matching the existing 24-year old athletic trophy showcases was the goal, both in style and color.
The stand-alone display case, while being somewhat straightforward, was approximately 8 ½ feet wide and almost 9 feet tall. Two sliding glass doors and glass side panels allowed for complete viewing access from any direction. Three adjustable glass shelves would be used as well as a fabric back, matching the school colors, located inside the display. The unique feature was that the right side of the unit was to have a 45 degree angle to accommodate the space and not be intrusive to the corridor.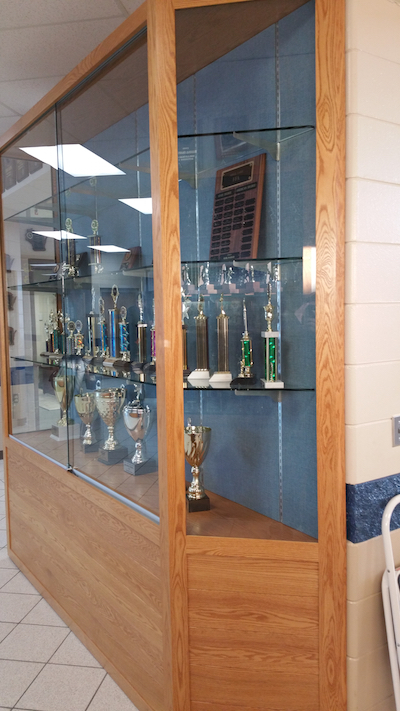 Another aspect of this particular project that may have been overlooked or simply forgotten by other shops was that this large and very breakable project had to be built in two pieces. Getting it into the building in one piece simply was not an option. With a little forethought, we devised a comprehensive plan that would allow the unit to be completely built in the shop, taken apart, reassembled on site and look as it was intended; a single, very large display case.
The plan worked great. It took only 5 hours to load, deliver and unload, assemble and return to the shop. However, recognition of the outstanding academic achievements and awards of the local high school students now has a permanent home for all to see for years to come.
In need of a custom display case for your school, organization, or retail space? Contact us about crafting a unique piece of your own with the help of our expert artisans.