<![CDATA[
Probably a little over-dramatic but what the heck….this is a blog and we're trying to grab your attention. You get extra credit if you know who said it and from what movie (……answer is somewhere in this blog….I think…dunno….probably will need to read further to find out)
There are jobs, projects or even moments that will define the life of any business.  Crossroads, of sorts, that if met with great expectations will catapult a business to the next level or, if not met, could spell the beginning of the end for any business.
So when one of the most exclusive private clubs in America needs a new 5,000 square foot ski shop with more than 80 total pieces, many of them being one-off unique pieces, an 8 step finish process and a very demanding and tight schedule, in the mountains near Big Sky, Montana, what do you do, or what do we do?  We get to work and produce some of the most exquisitely designed and crafted fixtures you'll ever see. After all, we've done it before with the likes of projects for the Bellagio in Las Vegas or SentryWorld Golf Course in Stevens Point, Wisconsin.
Rift white oak was the wood species used for this project and a very unique and complex finish process was used to make these beautiful pieces.  The process of the finish was to expertly sand the wood so that it was silky smooth to the touch but not too much so as to remove the natural grooves of the grain of the oak. A tricky process especially at joints where one or more individual pieces of wood met. A rich, dark brown stain was then applied and sealed coated. Once the sealer was sanded smooth, a light tan powder glaze was applied. That glaze would fill in all the individual grain lines and remain in those grooves once the majority of the glaze was removed by sanding. Finally, two coats of the highest quality lacquer were applied, leaving a look where all of the grain could be seen in light tan against the dark brown stain.  Breath-taking!!!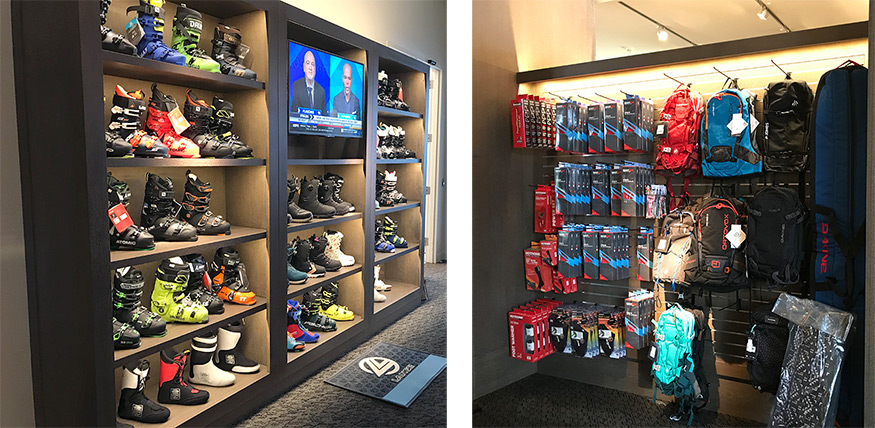 As far as the overall specifications of the job, each wood joint was to be mitered, including when horizontal  pieces turned downward and became vertical. These time-consuming joints needed to be precisely measured and cut for a very pleasing look.  In addition, there were 14 twelve foot columns that needed to be "wrapped" with ¾" thick MDF plywood. These columns were finished with the same process as previously stated.  In all, we used more than 120 4' x 8" pieces of sheet stock.
Needless to say we hit a homerun. The Club was extremely pleased with not only the quality of the workmanship but the timeliness in which everything was completed. The volume of work and countless hours needed to complete this project is something everyone member at DP Juza Woods and Fixtures is extremely proud of. We couldn't have been as successful without all hands on deck, working together, pulling in the same direction and dedicated to getting the job done and done right.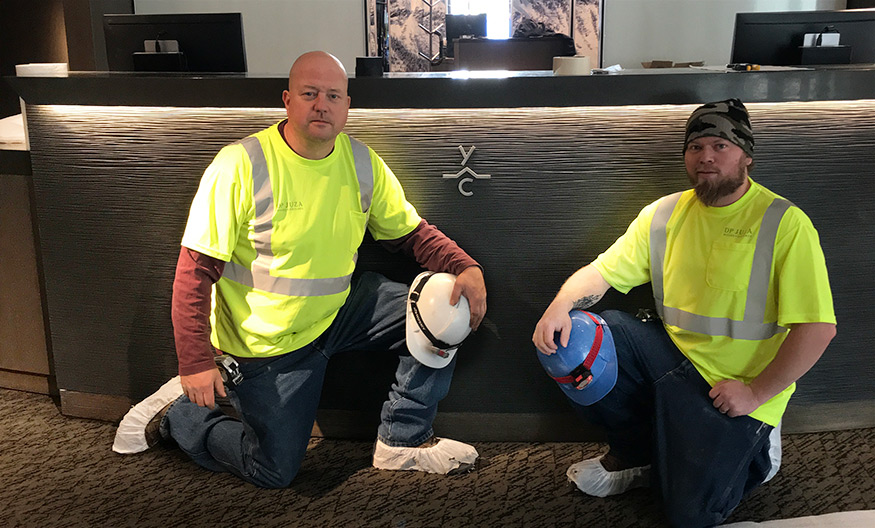 As an added bonus, the club was within an hour Yellowstone National Park and we were lucky enough to witness the very rare eruption of Steamboat Geyser. The world's tallest currently active geyser was once dormant for more than 50 years and the interval of eruptions can range from 4 days to years. Hard work and dedicated craftsmanship pays off in more ways than one!!!! And as Charlie Sheen said in the movie Wall Street, "Life all comes down to a few moments. This is one of them."