Evolution of Woodworking and Man. Can you have one without the other?
As woodworking evolves in the modern era, we too as individuals and as a company, must evolve continuously. Striving to provide the highest quality services and products as efficiently and cost effectively as possible ​for​ our clients. Whether we are creating custom furniture and fixtures, custom wood cabinets, retail display cases and counters, or custom molding and millwork, constant improvement – evolution – is our focus.
At DP Juza, our evolution begins with experience. We don't have to endlessly repeat tedious tasks or cleanups or workarounds due to a standard process accepted by many woodworkers. We have the capacity to stand back, evaluate the process, analyze the components (material, artisan, tool) and leverage our thinking and evolve our processes. Thus, ultimately improving the final product and experience for our clients.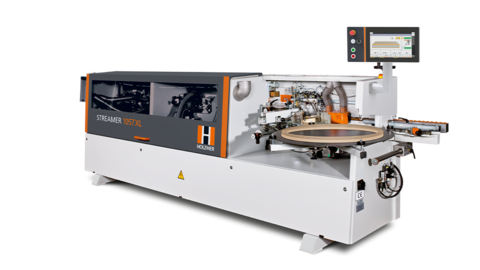 Oftentimes evolution takes place in the form of technology in tools. Our most recent upgrade is the Holz-Her 1057 XL Edgebander. Edge banding is a thin material, usually wood, but can also be PVC. It seals raw edges and also protects them from dirt and moisture making those edges perfect and long lasting. It matters how perfect the result is when the banding is applied. With that level of perfection, the longevity and beauty of our product will be enjoyed by many long into the working future life of those pieces we create.
This relatively compact machine offers more technology in less space than our previous edgebander and focuses on the higher quality aspects of edgebanding, like specialized glue application, corner rounding, mechanical radius scraper, a flat scraper, and a buffing unit.
Edgebander Features
One of the coolest features of this edgebander is the Glu Jet Thin Film Technology – it extrudes the glue onto the edge of the material, ONLY where you want it. This means no extra scraping is necessary once the edgebanding is adhered.
Another really nice feature is the corner rounder, which eliminates the need to sand or profile off excess and round the corners by hand. To top it off, the radius and flat scrapers work together with the buffing unit to complete the process while creating a superb finish on each piece of material that is placed into the machine. Our clients love the results reflected in their custom woodwork, custom wood cabinets and doors.
At DP Juza, we are proud of our ability to evolve as individual artisans, evolve as a technologically advanced company and evolve as a preferred premium woodworkers for our most sophisticated clients and architects like you.
If you would like to learn more about our evolution as a company, as individual artisans or as a technologically advanced company, read more on our blog.